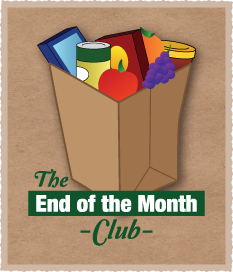 Today, many people right here in America are worried about where their next meal is coming from. According to data from UCLA's Center for Health Policy Research, at least 4 million Californians are struggling with food insecurity — being unable to consistently put food on the table. More and more people are turning to food pantries to help them put enough food on their tables. And these are not just homeless people, but often people with jobs who simply do not make enough money to feed their families.
To help meet this need, Big Sunday is proud to host the End of the Month Club.
Every month, Big Sunday sponsors a food drive to collect food for a local food pantry. The food can be dropped off at the Big Sunday offices starting on the 3rd Monday of the month. The following Wednesday morning – the 3rd Wednesday of the month (unless otherwise noted) – anyone who is interested is invited to stop by the Big Sunday office between 10 and 11 a.m. to drop off any additional food, and then stick around to sort and box it – not to mention enjoying the company of the others who'd like to help, too.
In 2016, we aim to collect more than 700 items of food each month. To help us meet this goal, each month we pair up with at least one business, school, faith group, club, family or individual who will collect specific items in their community.
Great News: In January 2015, we collected 500 boxes/bags of pasta and more than 300 cans of sauce for GWHFC; in February 2015, we collected nearly 650 cans of fruit & veggies for SOVA; in March 2015, thanks to a generous donation from CLIF Bars, we distributed 90,000 bars to various local nonprofits; in April 2015, we distributed more than 600 cans of beans and soup to our friends at Hope Net and in May 2015, we distributed more than 700 non-perishable food items to MEND.  In December 2015, we collected 2,000 non-perishable food items for Walden Family Services and Program for Torture Victims and in January 2016, we collected 815 non-perishable food items for EngAGE.  In February 2016, we collected 750 items of pasta and sauce for Alexandria House and we collected more than 1400 granola bars in March 2016 for Covenant House.
Others Include: The Authentic Literary and Talent Agency; The Center for Early Education; Centro Evangelistico Ebenezer Church; City National Bank; Clif Bar; Cornerstone on Demand; Disney Animation; Dreamworks Animation;  IKAR; The Westmark School; Wilshire Rotary Club; The Oakwood School; Temple Emanuel of Beverly Hills; the cast and crew of "Justified"; Hancock Homes Realty; Village Pizzeria and more!
If you'd like to get more involved, please contact endofthemonthclub@bigsunday.org or call 323-549-9944.
Upcoming:
May 31: Clean Out Your Cupboards – all unexpired, nonperishable food items will be accepted (we aim to collect 10,000 items during the month of May)